Blog and News
SMAG, winner of the etoiles du big data occitanie 2017 competition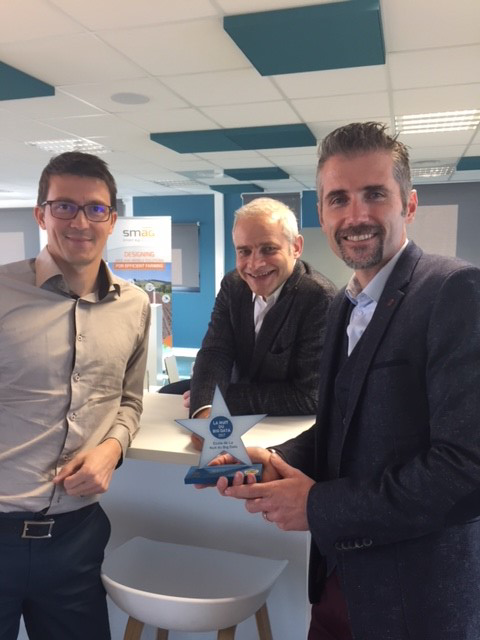 ---
SMAG received the winners' trophy for the Etoiles du Big Data Occitanie 2017 competition, for its "DataCrop" project, which enables wheat yield to be predicted throughout its growth.
SMAG worked on the architecture and on the implementation of a new agricultural data lake platform (the data lake method is a method of storing and of processing data). The platform securely hosts all types of agricultural data (weather data, satellite and drone imaging data, IoT data, plot data, etc.) and other algorithms which are helpful for predicting events in plots of land.
The first concrete achievement arising from the innovative data lake platform was the development of the "DataCrop" model, SMAG's first big data project, which was thought out and brought to fruition in conjunction with the consultancy firm Agrosolutions, a subsidiary of the co-operative group InVivo, and Luc Lorin, a farmer and modeller. The ambition for "DataCrop" is that it be capable of bulk-producing forecasts of yields and quality, at the scale of the plot, several weeks ahead of time.
Through the introduction of its new data-driven strategy, SMAG will be in a position to offer its customers in the world of agriculture a range of new services with very high added value, which will enable them to improve their performances and their competitive edge, and will help them to do so from the start to the end of the agricultural production process.
The platform will also have dedicated service collaborative construction areas (Datalab) integrated into it, which will be used by SMAG's customers to access big data technologies and to thus create value using their data.
The night of Big Data 2017
Co-organised by the Alliance Big/Active Data non-profit organisation and the open innovation and creative transformation agencies MNMS (MyNeedMySolution) and iDeaTRans, the 2017 edition of the Trophée des Etoiles du Big Data Occitanie, sponsored by the Occitanie and Pyrénées-Méditerranée Regional Council, enabled players, initiatives and value-adding data solutions to be revealed across the centre-south region of France.
The jury awarded SMAG first prize in the "Large Businesses" category, for its DataCrop project, which was selected in light of several criteria, as follows: creativity and innovation, complexity, the sturdiness and the durability of the project, the novel use of big data technologies, and the creation of value for professionals in the agricultural sector.
Another victory for SMAG which won, in a short space of time, its second price for its big data solutions. The "DataCrop" project was indeed awarded the "Best Value-Added Reseller" award at the 2017 Talend Data Masters Awards ceremony, which was organised by Talend, a world leader in big data and in cloud integration solutions.
Discover the "dataCrop" project in pictures ! (video in French)